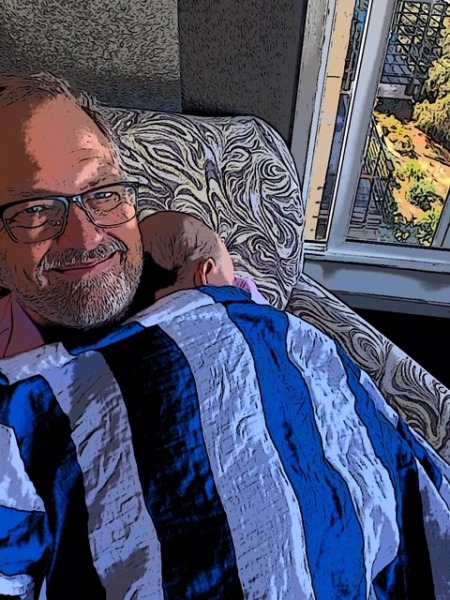 MAYA CLEMENTINE FELLOWS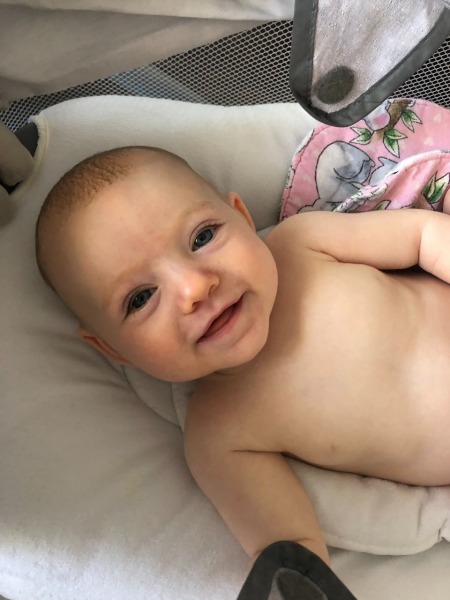 When our daughter Lauren and her hubby Rob told us they were expecting last summer - the entire family cried with joy. And when Maya was born on April 2nd 2020, we were in the beginning of the Covid crisis, and couldn't meet her in California as quickly as we wanted. I'm a very proud grandpa who now gets daily video chats via Zoom and pictures via Tinybeans delivered to my email inbox every morning.

My wife and I flew to San Diego a couple weeks ago to meet Maya. The trip was great, and everyone is safe. And I'm so very happy that Maria took the picture of me holding that baby. It was a precious moment - one that I will cherish forever.

I grew up knowing both my grand mothers who lived with our family. My parents had taken them both of them in - years before I arrived. The sad part is that I never knew either of my grandfathers. I'm pretty sure that one was a police officer, but the other????

I had been toying with the idea of writing a weekly email about my stories. This had been on my mind for a LONG TIME. I had jotted down some ideas. Being a business coach, I had told a lot of stories to help my clients make decisions, or get some clarity by showing them how I or my family had walked a similar path. Some of the stories were ways to overcome obstacles, others were traps to avoid.

This whole e-mail and blog thing was another great idea - but in the mind of a business owner - there are always hundreds of great ideas. Which ones do you actually push through and create? I've learned that if an idea doesn't have enough "GOGO Juice" it just withers and fades. Words of Wistrom - was a fun idea - but it didn't have enough GOGO Juice.

UNTIL...

I started thinking about the fact that I never knew my grandfathers. I learned a bit about life in the "old days" through my maternal grandmother and her stories, but not much from anyone else. I never knew these men who were my grandfathers. I never knew how they thought - what they valued - or the essence of their dreams. I knew nothing of their lives, their triumphs, and disappointments. I had no idea of the decisions that they had to make - nor the way that they made them.

Now that I've made 60+ trips around the sun, I've certainly come to think about time as a very precious commodity. Will I see Maya graduate high school? College? Marry? Have her own children if she pleases? I have no idea.

Maya is my GOGO Juice for Words of Wistrom. She, along with any future sisters / brothers / cousins (get going Ashley and Jeremy) will hopefully have some sense of their heritage. A story a week - that's 52 a year. Based on current mortality tables, I've got about 19.35 years left. That's only 1,006 stories. I better go work on the best ones first.

Epilogue... What about your project that you've been tossing around for a while? No GOGO Juice? Go find it. OR - if it doesn't have any - go find a project that does.

If you're not already subscribed... please make sure you never miss a "JERRY STORY" by clicking here.

Till next time...